Southern Wine & Spirits – Why Work For Us?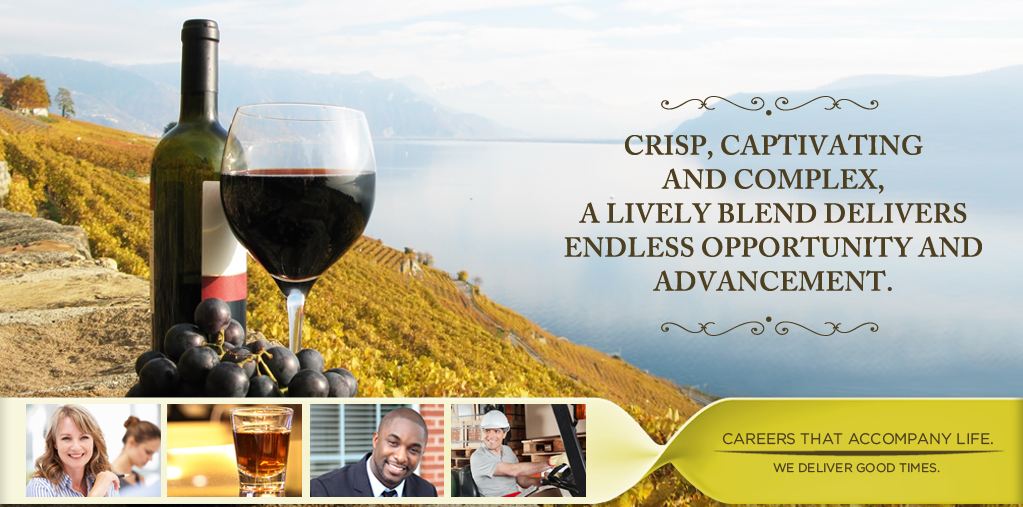 ​​Our Corporate Vision
To be the leading distributor of beverage alcohol— creating superior value for all tiers of the industry.
Our Mission
Providing superior business solutions that drive growth and value for customers and suppliers alike through our national scale, state-level share, local market intelligence and brand-building expertise.
Our Beliefs and Values
Our people are our most fundamental resource. Diversity in thoughts and actions are welcome. Individual differences are respected. We recognize that employee contributions through teamwork and empowerment are critical to the success of the Company. Our goal is to provide a positive environment for our employees that encourages creativity, recognizes innovation and rewards results.
Quality
Superior quality and continuous improvement in all aspects of our business results from a dedication to employee development; this, with a commitment towards ever increasing customer satisfaction.
Customers
By being customer focused, it provides us the understanding and the ability to address the needs and expectations of each; thus, enabling us to provide unsurpassed value in both product and services offered. Professional relationships cooperation and building long term relationships is the common goal in our successful relationships with our suppliers and customers alike. By conducting business in a manner beneficial for everyone, with highly trained and specialized resources, we are able to deliver superior value added services.
Integrity and Social Responsibility
Our Company accepts responsibility for maintaining the highest standards of integrity, ethics, and support for all our employees, customers, environment, and all the communities in which we live and serve.
At Southern Wine & Spirits, our people are as diverse and dynamic as the products they support. From the warehouse to the conference room, the truck cabin to the corner office. It's the unique talents, perspectives, and personalities of our team members that empower us to achieve our common goals. That's the spirit of our success. And that's why we're looking for passionate, forward-thinking individuals like you to enrich our family, enhance our services, and drive our business forward.
Employees from different cultures and geographies bring together their unique backgrounds, experiences, and values to understand the needs of suppliers and customers. Diversity of thought is critical to the company's success and growth; we are dedicated to hiring, developing, and retaining the best talent in the market.
Join us. Take your career to new heights. And we'll take our industry into tomorrow. Together.
Southern Wine & Spirits recruits and hires qualified candidates without regard to race, religion, color, sexual orientation, gender, gender identity, age, national origin, ancestry, citizenship, veteran or disability status or any factor prohibited by law, and as such affirms in policy and practice to support and promote the concept of equal employment opportunity and affirmative action, in accordance with all applicable federal, state and municipal laws. The Company prohibits discrimination on other bases such as ancestry, medical condition, or marital status under applicable laws. We make reasonable accommodations to meet our obligations under the Americans with Disabilities Act (ADA) and state disability laws. Candidates should possess the right to work in the United States, as it is not the general practice of Southern Wine & Spirits to sponsor individuals for work visas.
At Southern Wine & Spirits of America, we recognize that our social, environmental and ethical conduct has an important impact. We, therefore, take our corporate social responsibilities ("CSR") seriously and are committed to advancing our policies and systems across our network to ensure we address and monitor all aspects of CSR that are relevant to our business.
As its core mission, Southern Wine & Spirits strives to be a good corporate citizen – focusing a high percentage of its partnerships and giving on the support of local and regional communities and charities. Over the past 10 years, the Southern Wine & Spirits Foundation has donated millions in charitable gifts to organizations outside of our industry. The diverse mix of recipients of Southern's donations include education, cultural, medical research and care, social and religious and emergency relief organizations.
Southern Wine & Spirits Photos
Southern Wine & Spirits Reviews
Southern Wine & Spirits
173
Harvey R. Chaplin
84 Ratings
Southern Wine & Spirits Interviews
Application

I applied online. The process took a week – interviewed at Southern Wine & Spirits.

Interview

Within 3 days of finishing the online application I received a call from an area manager to set up an interview. It was a fairly casual interview setting with basic interview questions detailing experience and situations. I was told I would receive a call back after other interviews were completed. The following week I called to do a follow up and left a voicemail. Even after I was verbally told I would receive a call and I followed up with a call back I still did not here back from the area manager. It is completely unprofessional and bad practice and a reflection of the company. To take the time to make a call or send an email is common courtesy to applying individuals and shows integrity.

Interview Questions

Southern Wine & Spirits

2015-03-30 14:25 PDT
Southern Wine & Spirits Awards and Accolades
America's Largest Private Companies
,
Forbes
,
2009
America's Largest Private Companies
,
Forbes
,
2008
Website
www.southernwine.com
Industry Business Services
Revenue
$1 to $2 billion (CAD) per year
Southern Wine & Spirits is a family owned sales and distribution organization with a renowned history of consistently delivering impeccable service through our 14,000 employees, covering 35 states. We offer an array of careers focused on delivering a captivating and rewarding experience. We challenge our colleagues every step of the way and provide them with tools to grow, succeed and accomplish their personal and professional goals. Together, we can deliver the highest quality service to each of our customers and put you on the career path you've been looking for.
Work at Southern Wine & Spirits? Share Your Experiences