OSI Systems – Why Work For Us?

​​​​Together. Creating Solutions for a Safer and Healthier World.​​
OSI Systems Inc. is a diversified global developer, manufacturer and seller of security and inspection products, medical devices, and optoelectronic-based components, as well as a provider of engineering and manufacturing services.

The company has more than 35 years of experience in electronics engineering and manufacturing and employs over 4,000 people through offices and production facilities located in more than a dozen countries.
OSI Systems' companies have a long history of developing innovative solutions to bring a better quality of life to the world. Healthcare, security and advanced technology are among the key areas where we have made significant inroads with new ideas, products and processes. We know that many people live in difficult and dangerous conditions. To improve these circumstances, experts need simple, effective tools utilizing the latest in technology. As a global company, we are dedicated to developing these tools for our customers and the people they serve worldwide. Our singular focus is to help security experts, clinical professionals and high-tech developers solve real-world problems and issues. OSI Systems has a proud history, but we are most excited about the future. We will continue to explore the frontiers of science and engineering to lead the way to a safer and healthier world. OSI Systems has been committed for over thirty years to both comprehensive research into meaningful issues and high-technology solutions to what will make the world a safer place, a healthier place... and a better place. OSI Systems and its subsidiaries, Rapiscan Systems, Spacelabs Healthcare and OSI Optoelectronics, have decades of experience and leadership in their markets. Most importantly, their reputation for service is a cornerstone to their longevity and positions of trust and partnership.

​​"I have been with OSI for 23 years and I continue to learn new technologies, tools and systems. I consider my co-workers as my friends and I continue to grow with the company."
Daniel S.
Systems Administrator, OSI Systems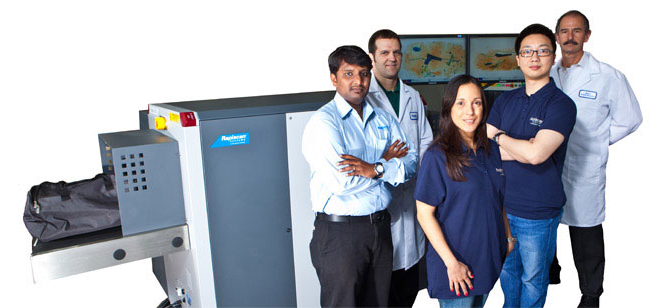 ​​OSI Systems is committed to attracting and retaining the most talented and diverse employees, and to providing ongoing opportunities in a rewarding and dynamic environment. As a global technology leader, we offer numerous opportunities for professional growth and development across a wide range of industries and locations. If you are looking for new challenge, we welcome you to review our job openings and take the opportunity to join us.

​​OSI Systems offers a comprehensive benefits program that helps our employees live better and live well-physically, financially and personally. Our programs provide a solid foundation of protection and offer a broad array of plans, tools and resources that help our employees to select benefits that best meet their needs and the needs of their families.
OSI Systems is committed to upholding a culture of diversity and inclusion. We value the unique contributions of every person and we hold firm to the ideals of fairness, equal opportunity and mutual respect. We entrust these high standards to all our employees.

OSI Systems is an equal employment opportunity employer and will not discriminate against any employee or applicant on the basis of age, color, disability, gender, national origin, race, religion, sexual orientation, veteran status, or any classification protected by federal, state or local law. Consistent with its obligations under federal law, it and each subsidiary company that is a federal contractor or subcontractor is committed to taking affirmative action to employ and advance in employment qualified women, minorities, disabled individuals, special disabled veterans, veterans of the Vietnam era and other eligible veterans.
---
Comp & Benefits

Work/Life Balance

Senior Management

Culture & Values

Career Opportunities

I worked at OSI Systems full-time for more than 3 years

Pros

Good work life balance, good peer support and good team to work for.
Good learning experience and there used to be great onsite manager who is sound in technical and personal aspects.

Cons

Salary not per market standards and hike is not given on time. Every year there is 4 to 6 months delay and compensation is not paid

Advice to Management

Advice

Management in India show grow up and be little more mature.

OSI Systems

2014-08-07 10:59 PDT
OSI Systems Interviews
Updated 11 Jul, 2014
Application Details

I applied online. The process took 4 weeks - interviewed at OSI Systems in February 2013.

Interview Details

Got into a phone conversation with the engineering director, and he was very impressed with my credentials and liked my personality. I flew in to Hawthorne a week later to do an on-site interview, but it was basically just the director showing me around the site, and walk me through a detailed descriptions of the product they were making. It was definitely very eye-opening to see the technologies being employed. I was told by him at the end of the day that I would be given the job, but he has to report to his superior about this.

Two weeks later I was notified that I was not offered the job because the director's superior wanted to hire someone who had more experiences than i did. It was a shame, since I would have gotten the position, if he was given the green light. Still it was a very pleasant experiences to talk to the people there, and the director was very personable and friendly to talk to. All traveling expenses were paid for by them.

The only downside to the whole experiences was the engineering site looked like a dilapidated machine shop with equipments lying all around, and the people working there were pretty much all hourly rate assembly workers. The work environment was definitely sub-par and not sanitized; It was more so like a factory than an office, which I was not expecting.

Interview Questions

It was basically just me listening to his breakdown of the product for 5 hours (got into the really technical side of the electronics)   Answer Question

OSI Systems

2013-04-10 02:48 PDT
OSI Systems Awards and Accolades
America's Largest Private Companies
,
Forbes
,
2009
America's Largest Private Companies
,
Forbes
,
2008
Website
www.osi-systems.com
Headquarters
Hawthorne, CA
Type Company - Public (OSIS)
Industry Manufacturing
Revenue
$500 million to $1 billion (CAD) per year
OSI Systems is keeping a close scan on transportation security and health care worldwide. The company's security division manufactures specialized inspection equipment under the Rapiscan Systems name used to screen everything from baggage and people to cargo and vehicles at airports, ports, and borders. Its Spacelabs Healthcare subsidiary makes patient monitoring, cardiac monitoring, and clinical networking systems primarily for hospitals. A third division makes optoelectronic devices (OSI Optoelectronics) for aerospace/defense electronics, industrial automation, security... More
Worked for OSI Systems? Contribute to the Community!