Size 5000+ Employees
Type Company - Public (CAH)
Industry Business Services
Revenue $10+ billion (CAD) per year
---
Headquartered in Dublin, Ohio, Cardinal Health (NYSE: CAH) is a $101 billion, Fortune 19 healthcare services company that improves the cost-effectiveness of healthcare. As the business behind healthcare, Cardinal Health helps pharmacies, hospitals and ambulatory care sites focus on patient care while reducing costs, improving efficiency and quality, and increasing... More
Mission: We make healthcare more cost-effective so our customers can focus on their patients.
Cardinal Health – Why Work For Us?
Overview

 | 

Our Values

 | 

Benefits

 | 

Meaningful Work

 | 

Diversity and Inclusion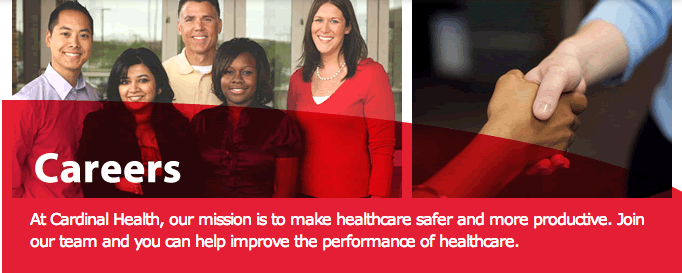 Cardinal Health, Inc. is a Fortune 19 company that improves the cost-effectiveness of healthcare. As the business behind healthcare, Cardinal Health helps pharmacies, hospitals and ambulatory care sites focus on patient care while reducing costs, improving efficiency and quality, and increasing profitability. Cardinal Health employs more than 34,000 people worldwide.
Cardinal Health employees provide the leading products and services that support healthcare providers and manufacturers in their critical work.
This is the employer's chance to tell you why you should work for them. The information provided is from their perspective.
Working at Cardinal Health
Posted by employees
Employees say it's "OK"
453

ratings
81% of the CEO   241 ratings
George S. Barrett
Chairman & CEO
Pros: opportunity for organic growth for employees who are willing to stay with the company – Full Review
Salaries in CAD  

Avg. Salary

1 Cardinal Health Salary

n/a

1 Cardinal Health Salary

n/a

Customer Service Representative

1 Cardinal Health Salary

n/a
= Salary Range
= Anonymous Salary Range
= Avg.
If we only have one or two salaries posted for a given job title, showing that salary information may risk employee anonymity. So, in that case, we generate an anonymous salary range by adding and subtracting a small percentage from the salary posted. The small percentage difference offers additional anonymity while still minimising the difference between the range and the employee's actual salary.
No Offer – Reviewed Feb 24, 2014
Interview Details It was easy going. They asked detailed questions to all the jobs I had. There was also a skills test with simple coding questions. Looks like a great place to work. They didn't provide me a reason to why I wasn't suited to the position, just that they are still looking. Job is still there four… – Full Interview
Interview Question:
What was my favorite program in university? – Answer Question
Cardinal Health Awards and Accolades
Top Companies for Executive Women
,
National Association for Female Executives
,
2012
Best Places to Work for LGBT Equality
,
Human Rights Campaign
,
2010
Most Admired Companies in Research Science
,
Black Engineer & Information Technology
,
2010
Best Places to Work for LGBT Equality
,
Human Rights Campaign
,
2012
Barron's 500
,
Barron's
,
2009
Show More
Worked for Cardinal Health? Contribute to the Community!